It´s often the small things, which touch us the most.
Again and again we experience here at the Michlwirt, that it´s exactly these moments at events like weddings, family celebrations, birthday parties and baptizing which make a big impression in our guests heartS and will be remembered forever.
Often, it´s the little things which do make an event special. It´s not just great food, and the right frame for the event, often it´s a smile and lovely word at the right moment.
Our Bavarian and International menu card is as varied as the needs of our guests. From the regulars´ table with cold snacks till the Business Lunch, from individual Birthday Menu till the classic Wedding Menu with buffet. From Eastern family celebration till the big Christmas Company Event.
RESTAURANTS OPENING TIMES
Big Michlwirt Menu card 11:00 - 13:00 | 7:00 - 20:30
In the mean times we do offer a small Afternoon Menu and a Night Menu till 23:00
Sunday is closed.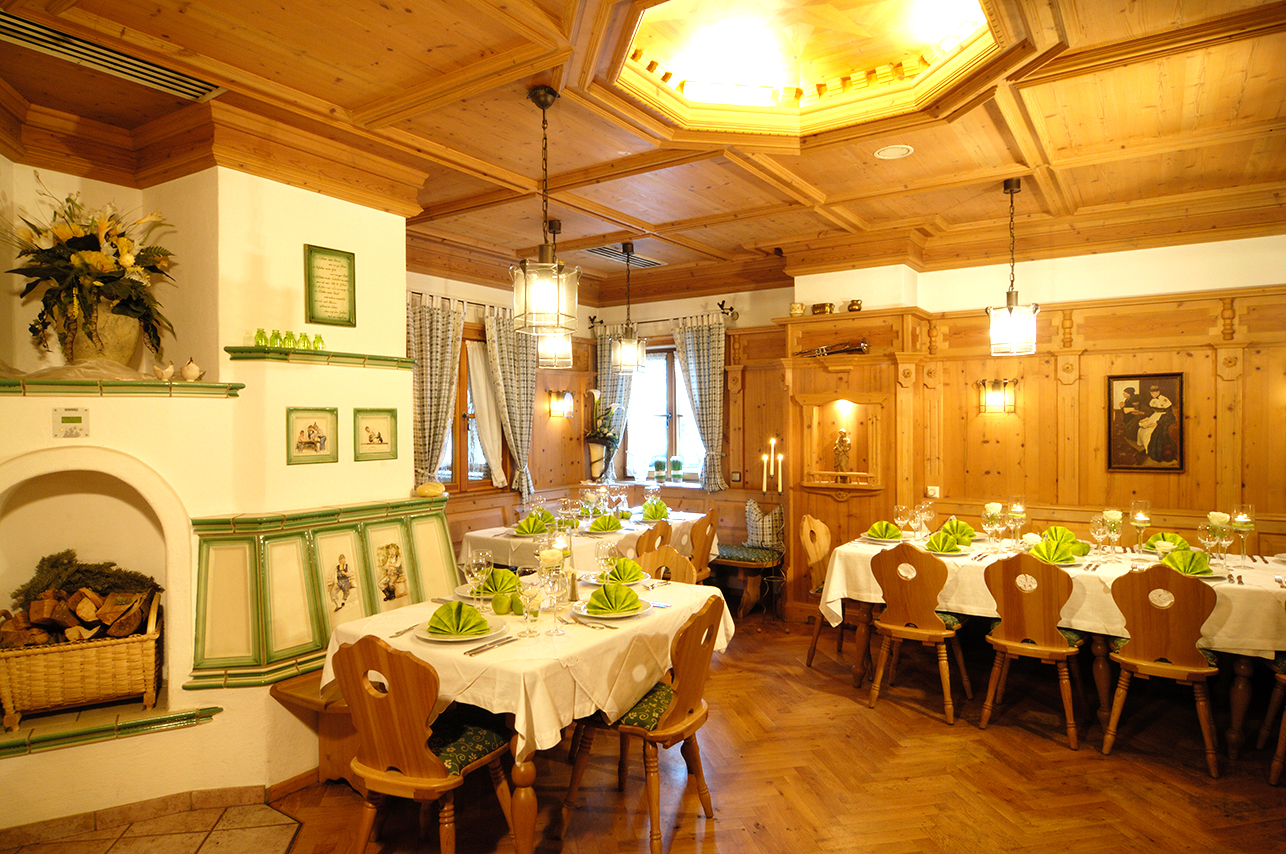 THEATER-STÜBERL
Let´s open the stage and draw the curtain, the theater room is having our actors from the Pallinger theater eternalized with pictures in our wall tiled stove.
In our beautiful restaurant room with green-white colour and a lot of warm wood, 35 guests do find a beautiful frame work to enjoy the Bavarian food with all sences.
MICHL-STUBE
Exactly like Bavarian´s heaven - blue-white, our beautiful Restaurant Michlstube for lunch and dinner with á la carte menu.
Here the patron saint, the holy archangel Michael is pictured at the tiled stove.
Up to 80 guests do find a beautiful welcome in this Restaurant room for Weddings, Birthday Parties, and Events.
GUTE STUBE
Like the country side children know the name "Gute Stube", which means, the "good room" or living room. Now a day the Gute Stube is your "living room" at the Michlwirt.
Sit down, feel welcome and feel like at home.
Up to 45 guests do find place in this cosy Restaurant with yellow blue accents and warm wood.
Each day starts with a good breakfast. From the selections of homemade jam and marmalade to the homemade Bavarian White Sausage. At this large breakfast buffet, you do find all, what your heart is wishing for, to have for breakfast.
BREAKFAST TIME
Tuesday - Friday 06:30 - 10:30
Monday & Saturday 7:00 - 10:30
Sunday 8:00 - 11:00
MICHL-HALL
One hall - a lot of possibilities.
For all kind of events - this is our theatre hall, wedding hall, and our big hall for conferences.

The Michl-hall has space for up to 350 guests with a big dancing area and a stage for live music.